We're launching a new navigation bar for 43 Things. Hopefully this week. Here it is (click on it to see the full size image):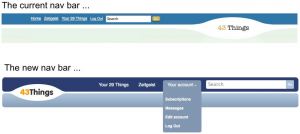 The new nav bar includes Your X Things, Zeitgeist & Your Account. When you click on Your Account a dropdown box opens up with Subscriptions, Messages, Edit Account and Log Out. The search box is much bigger and the 43 Things logo moves over to the left. The pages will get a little wider (we're moving from 750 pixels to 930 pixels). We've already moved many pages to 930 in the past few months, but we're getting them all over to 930 pixels wide with the new nav bar. You may notice that there's extra white space on the goal page - we'll be tightening that up in the coming weeks as we're working on a redesign of the goal page that will make use of the new 930 width.
The important links will be readily available to you from any page. You'll now be one click away at all times from editing your account, viewing your subscriptions and your messages.