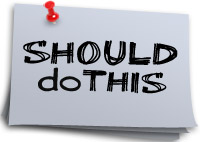 We've been busy this week with our new blog at petripoject.com as well as doubling down on making 43 Things a community focused on personal improvement (rather than self harm). But we are also up to our elbows in our newest project: Should do this.
We quietly gave some folks a very early preview of the site for a few weeks but we've since pulled it back while we turn our Alpha product into a Beta.
What is Should do this? Put simply, it is an internet based suggestion box, and we think it works great for any person, product, company or non-profit that wants to be in closer touch with what your customers think. It's also a fun, community filled site in the style of 43 Things. We'll be using it ourselves to replace our old "ideas" sites.
You can head over now to shoulddothis.com and sign up to get early access to help us test out the new site. And if you run a business, website, school or nonprofit and think you might want to test out managing a suggestion box of your own, drop us a note at shoulddothis @robotcoop.com.