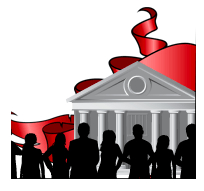 Today we launch City Hall, the newest enhancement to the 43 Things community. 43 Things is very much a community of the people, by the people, for the people and in that spirit City Hall is the place where the community gives back and keeps the spirit of the site in balance. We've tried to take some common features on community sites and make them more participatory. Here's what City Hall has to offer:
How To Use 43 Things: where users can ask questions about the site and other users can help with their questions.
Community Guidelines: we wanted to clarify the rules of the road on 43 Things. Let us know if you have other suggestions for this area of the site.
Contact Us: a new form for contacting the Robots.
Neighborhood Watch: for users who have been around a while, a tool for voting on suspect accounts that have been reported as naughty by other users.
We are hoping that this is just a start to make it more obvious what drives 43 Things—it is you. The community here shares goals, writes entries, and cheers each other on, but now they can also report abuse, answer user's questions, and vote on suspect accounts.
If you have other ideas for City Hall, let us know about them.