The Robot Co-op got a chance to sneak into Amazon and see Dave Thomas talk about Ruby today to a crowd of skeptical-at-first C, C++, Java, and Perl developers.
Dave Thomas gives a quick tutorial of David Heinemeier Hansson's Ruby on Rails framework: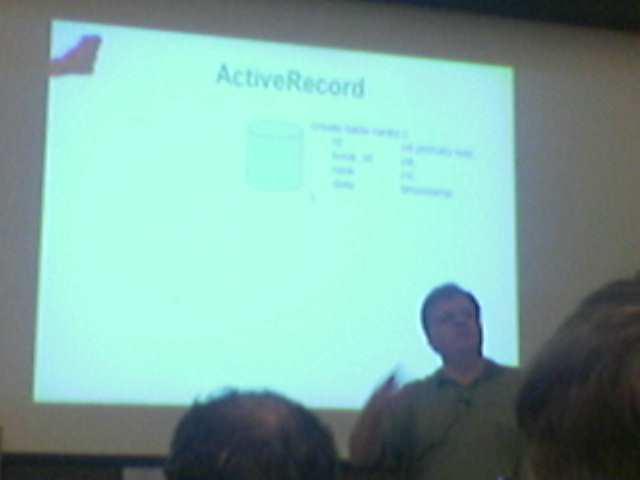 Even though the crowd lobbed some difficult questions, Dave must've been doing something right because the free-for-all for copies of the latest edition of Programming Ruby reminded me of a Britney Spears concert (without the synchronized choreography and hot pants):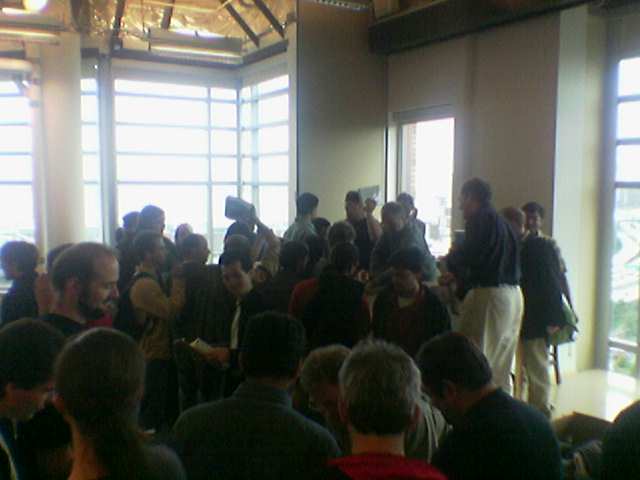 I think on some levels that there was a misunderstanding present at the talk. Dave Thomas might not know exactly what it's like to design, build, and maintain a code-base that 1,000+ developers are contributing to and which runs a site that 35,000,000 people are using. And sometimes I feel like some developers might not know just how much innovation and productivity rely on language, the ability to have fun writing code, and the development environment that it all happens in. I could be making all of this up, but it's possible that someone armed with both of those pieces of information could build something pretty interesting pretty quickly.
In the meantime, prototyping over at the co-op continues in Ruby on Rails, and we're going to allow another batch of 20 pre-pre-alpha testers in by the end of next week. I designed the logo, and at least one person seems to like it. Also, before you know it, I'm not going to be the only one coding up this thing with a paycheck.
P.S. Dear Dave Thomas, it came up in the talk that it was necessary to scrape Amazon's detail pages in order to get Sales Rank data… and that this information wasn't available in the web services. That's actually not true… I've been using it on All Consuming since web services first launched. Just thought you might want to know, so you don't have to keep adjusting that scraper to every little change on the detail page… that gets old quick.