43 Things might get a little slow while we shuffle the responsibilities of our boxes by tweaking the load balancer. Or it might not.
The change will allow us scale each site's hardware with the amount of traffic it receives. I'll be watching things and tuning as people switch, so don't freak out if things get a little slow.
Yeshna and friends are organizing a 43T meet-up:
Sunday, April 23 5pm Bryant Park
I created an event page for this meet-up—go ahead and click the "I am going" button if you intend to be there. Be sure to take pictures so we can see y'all post-meetup on 43T!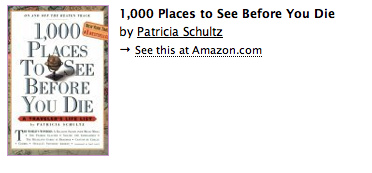 I was blown away by this list—1,000 Places To See Before You Die which is based on Patricia Schultz's book with the same title. A few observations:
Stacey created a 1,000+ item list and added photos for quite a few of the places. This is an amazing feat in itself!
I realize I haven't been many places. I'm currently at 4% complete, but I think that's likely higher as there are plenty of places where I'm not sure of the name so I've errored on the side of caution.
I learn a lot about the people I know as they mark places off this list. I didn't know half the places Josh had been … and I sit about 2 feet away from him.
Try this list out and show it to a few friends. Happy travels.