1,000 Places To See Before You Die
2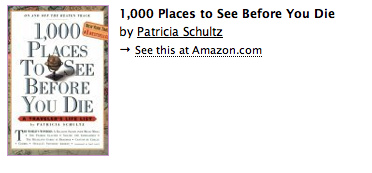 I was blown away by this list—1,000 Places To See Before You Die which is based on Patricia Schultz's book with the same title. A few observations:
Stacey created a 1,000+ item list and added photos for quite a few of the places. This is an amazing feat in itself!
I realize I haven't been many places. I'm currently at 4% complete, but I think that's likely higher as there are plenty of places where I'm not sure of the name so I've errored on the side of caution.
I learn a lot about the people I know as they mark places off this list. I didn't know half the places Josh had been … and I sit about 2 feet away from him.
Try this list out and show it to a few friends. Happy travels.