She did it. In her first week on the job, Kathy Mar, our newest Robot brought cool, fresh water back to our office. As if that wasn't enough, she's already made about a bazillion lists on 43Places.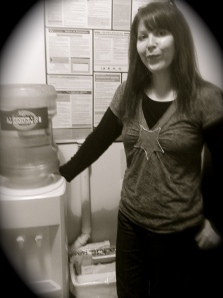 Kathy's been a user of 43Things since December 16, 2004, making her one of the first 300 users. We are still working out her title, but "Captain Obvious" is in the lead. She brings a practical approach to the Co-op that is already getting us to rethink some of the 6 year old ruts we've created for ourselves.
Kathy is a lifelong Capitol Hill native. She's a graduate of Steven's Elementary, Meany Middle School, Garfield High School, and Columbia University. She's an accomplished internet veteran. Kathy's worked at Microsoft, Real Networks, Disney and multiple mobile companies.
Hiring Kathy brings the Robot Co-op back up to fighting strength. We are now 6 Robots. She also adds the 10th dependent (Joe and Venessa are about to bring it to 11).