Buster has been working on connecting 43 Things with Facebook via Facebook Connect.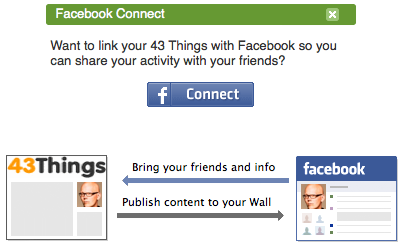 Facebook Connect allows you to connect your Facebook account with outside websites like 43 Things. The benefit is you'll be able to see which of your FB friends are using 43T. You'll also be able to automatically post to your Facebook page when you adopt a goal, complete a goal or write an entry.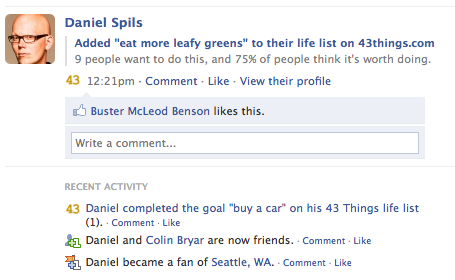 You need to have a Facebook account for any of this to work. If you don't have a Facebook account or are not interested, simply click the little "x" on the FB Connect widget on your profile page in the upper, right column. You'll never have to see it again.
You can disconnect from FB Connect anytime you like by clicking "edit" and then diconnecting. Give it a shot and let us know if you experience any weirdness (with respect to 43 Things, not in your general life).
UPDATE: It looks like Facebook has to approve the 43 Things application so it may be a couple days before it works for everyone - hold tight if on your first go around it doesn't work. We have word into Facebook and they should be approving it soon.