The Robot Co-op Turns 2!
14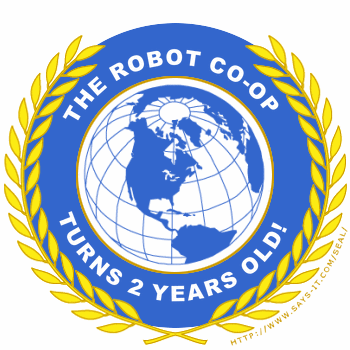 Two years ago today was the first day that we gathered together in our new offices in Seattle's Capitol Hill neighborhood and considered ourselves to be "working". Today, we can all finally check off the goal, "Start a company that lasts longer than two years."
Since then, we've tried hard to blur the lines between work and play. All of us had recently come from various levels of the totem pole at big successful companies, and we all knew too well the hidden cost of a successful company: lots of employees, policies to ensure efficiency and trust, meetings and paper trails to ensure information distribution, and lots of cracks to fall through and get lost in if you weren't careful. We had an opportunity to seek success on a much smaller scale, with a different set of goals, and a different set of tools. Fast and loose! Here are a few of our favorite tricks for the company:
Bring your own computer.
Sit around one big table. Make communication easy.
No discussions over mailing lists.
Meetings take place at the pub, or as a standing meeting.
Use paper and notecards instead of documents.
Share the stereo.
Walk or bike to work if you can.
Eat lunch together. Play credit card roulette.
And here are a couple of our favorite tricks for our products:
Make it more fun than useful.
Embrace constraints.
Build something you'd use. Use what you build.
Don't overmonetize.
Rely on the software in your head rather than try to replicate culture in features.
Design as you build. Keep the cost of change low.
Be in it to win it.
The culture here at the co-op has definitely evolved over these last two years into an almost cult-like belief system. Cults are more interesting than companies anyway. In the meantime we've launched five websites, and have also had enough time in our spare time to teach political theory courses at the local college, release albums and go on tour, sky dive, lose 100 pounds, go on meditation retreats, travel around Europe and Brazil, learn Jujitsu, raise chickens, and generally iterate fast and loose on the goal of learning how to amplify life.
Announcing: A new blog to celebrate the future!
In that spirit, we're launching a new blog today on the topic of mutual-improvement… our take on combining the worlds of life hacking, self-help, productivity, happiness, and goal-achievement. Here it is:
Read about the inspiration for the new blog, grab the RSS feed, and stay tuned for something new, ambitious, and wild in the spirit of everything else we do here.
Of course, all the thanks goes to the people who use the sites, and who have inspired us along the way. Thank you for the first two years! We're just getting started…